Advanced Watering Techniques
HeroMan Services Plant Company relies on our Reverse Osmosis Water System, along with city water, to achieve the correct balance of nutrients required for the healthiest of plants.
With the installation and maintenance of your plants, our Horticulturalists will care for your plants by means of Professional Interior Landscape Watering Machines. This procedure helps to guarantee the optimum health of your plants, the protection of your furnishings from watering with open watering cans, and the safety hazard of unsightly water hoses in a commercial facility.
SUB-IRRIGATION BENEFITS
Consistent soil moisture is the key to keeping plants looking their best. The old-school process of weekly wet/dry cycling leaves plants stressed and looking less than optimal. That's why HeroMan Services Plant Company relies on the latest in sub-irrigation technology to maintain constant soil moisture in all of your plants.
HeroMan Services Plant Company's commitment to being one of the leading Sub-Irrigation Contractors in the country provides you with the benefit of improved plant quality and plant health. Instead of constant watering, your Horticultural Technician's can spend more time focused on the physical maintenance of your plants, such as grooming, cleaning leaves, pest and disease control, and checking soil balance. Sub-Irrigation also causes less plant stress, makes it easier to water and maintain plants with hard-to-reach access, helps seasonal plants hold their blooms longer, and protects your carpet and furniture from unnecessary spills.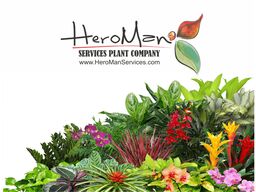 PENSACOLA:  850.936.6969
DESTIN: 850.424.3900
PANAMACITY: 850.785.8787
TALLAHASSEE: 850.785.8787
MOBILE: 251.607.6787
ANNISTON/GADSDEN: 256.546.3500
BILOXI/GULFPORT: 228.432.9909