About That Empty Courtyard....
Personalized Service Plans
"We want a new look, but I'm not sure we're ready to commit to Interior Landscaping…"
We have your answer:  Our Lease Program!
Enjoy the pleasures of live interior plants without the front-end investment. A lease offers the advantage of expensing your landscape over a longer period of time. Leasing also lets you enjoy an exciting interior plant program that otherwise might not be possible, with the flexibility to change or upgrade throughout the term of the program. Our horticulture maintenance program and full insurance plan assure you your leased plants are always looking great! Your lease includes all interior plants, containers (as listed in your proposal) and all monthly maintenance fees. This is an excellent choice for clients not wishing to have any upfront costs. All these agreements have a minimum two-year contract. This program also allows the lease to be totally written off per month on your taxes whereas in a purchase program the plants & containers should be depreciated. (Please contact your CPA for more a more complete explanation of this option.)
Purchase Program
If you choose to purchase the plants and containers upfront, your monthly fee will be for plant maintenance. This maintenance fee is considerably less than the lease fee.
Guaranteed Plants
Keeping your plants looking good all the time is part science, part art. And we have a flair for it. Our goal in every case is excellence-nothing less. Our trained, uniformed horticultural technicians will visit regularly to service your plants. We strive to keep every plant as healthy and attractive as possible. Your plants will be watered, fertilized, cleaned, rotated and trimmed regularly. Any plant which begins to lose its vitality will be promptly replaced at no additional cost to you. This is covered by our full-service Horticulture Insurance Program.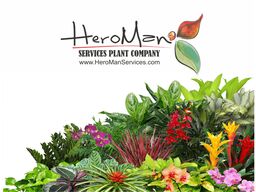 PENSACOLA:  850.936.6969
DESTIN: 850.424.3900
PANAMACITY: 850.785.8787
TALLAHASSEE: 850.785.8787
MOBILE: 251.607.6787
ANNISTON/GADSDEN: 256.546.3500
BILOXI/GULFPORT: 228.432.9909