BIOPHILIA
We are Designed to Live Among Nature!
Biophilia describes our innate need to seek connections with nature and other forms of life.
Why is it that we are so driven towards nature?
A vast amount of scientific literature has shown that nature has a fundamental positive influence on our minds and bodies, and scientists from different fields have taken the task to figure out the mechanisms behind this phenomenon.
The concept was named by an influential biologist Edward O. Wilson, who is also known for coining the term 'biodiversity'. The name is derived from the Greek words 'bios' (organic life) and 'philia' (one of the four ancient words for love).  Wilson proposed that contact with nature is a universal, basic human need derived from our evolutionary history.
Now, as the landscape of the Earth changes more rapidly than ever due to human influence, it has become more important than ever to understand the relationship we have with nature. Even though we are capable of adapting our behavior greatly in order to thrive in our modern environments, our brains and physiology are inherited from the ancestors who evolved in very different conditions.

Bringing Nature Indoors through Biophilic Design

Stress drives people to seek relief through nature, even though we might not understand the biological basis for it. It is our innate desire to seek a safe environment that is behind the feeling of calmness and happiness caused by nature, which allows our bodies and brains to restore and maintain their energy. This is called the stress recovery theory (SRT) and due to this restoring effect, we are also capable of performing are tasks better.
A vast amount of research supports SRT and is backing up the biophilia hypothesis.
INTERIOR CONTACT TO NATURE HAS 2 DIFFERENT CLASSES
Direct – Outdoor Nature Contact (i.e., viewing nature from a window, having a natural light source and Interior Nature Contact (i.e. being near Indoor Healthy Living Plants).
Indirect – Photographs of Nature or Recorded Nature Sounds
All of these ways to connect with nature have been linked to health and wellbeing with direct connection most strongly helpful. Exposure to natural elements reduces stress and anxiety, improves mood, energy levels, sleep quality and cognitive performance, decreases blood pressure, maintains stable blood sugar, aids in faster recovery, inhibits pain, and strengthens the immune system.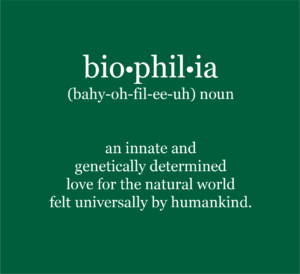 HeroMan Services Plant Company is pleased to provide our professional Interior Landscaping, Exterior Container Gardens, Green Roofs, and Green Wall Services to these areas:
                   Pensacola: 850.936.6969 , Miramar Beach: 850.424.3900,                                     Panama City: 850.785.8787 , Tallahassee: 850.785.8787,                                    Mobile: 251.607.6787 , Anniston/Gadsden: 256.546.3500,                          Biloxi/Gulfport: 228.432.9909
                           © 2022 HeroMan Services Plant Company, LLC                               "Your plant HERO for over 180 years"