HEROMAN SERVICES PLANT COMPANY – WHO WE ARE
Heroman Services Plant Company is the leading Interior Landscaping firm along the Gulf Coast and is ranked as a Top 25 Company Nationwide. We focus our expertise on Design, Installation and professional Horticulture Maintenance Services for hundreds of prestigious Clients across the South.
Our Services Include:
The Heroman family has been involved in Horticulture since 1838. Going on two hundred years, and now six generations, we have devoted our working lives to the Green Industry, Biophilia, the innate need of humans to seek connections with nature, and training and educating new generations of Horticulturist along the way.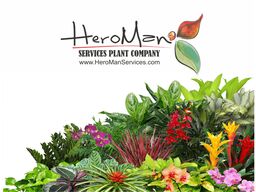 PENSACOLA:  850.936.6969
DESTIN: 850.424.3900
PANAMACITY: 850.785.8787
TALLAHASSEE: 850.785.8787
MOBILE: 251.607.6787
ANNISTON/GADSDEN: 256.546.3500
BILOXI/GULFPORT: 228.432.9909