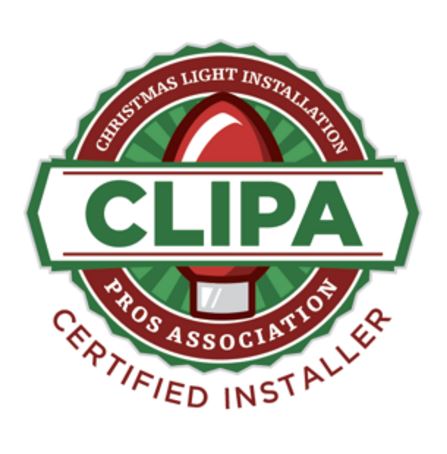 Pensacola, FL JULY 2020— Heroman Services Plant Company can now add CLIPA Certified Installer to their list of professional services. This month, they announced the completion of the Certification Course to become CLIPA Certified Installers of Holiday Lighting and Decorations.
What is CLIPA, you ask? The Christmas Light Installation Pros Association (CLIPA) includes professional Christmas light installers from around the United States and Canada. In order to become a CLIPA Certified Installer, companies must complete supervised educational coursework and meet high level training and business criteria. When you are working with a CLIPA Certified Installer you can rest assured that you are in good hands. Consistent monitoring is in place and CLIPA installers must adhere to quality control guidelines that ensure the preservation of the group's reputation.
A Holiday bonus is by being part of CLIPA, Heroman Services are included in the large network of Christmas light installers and vendors at CLIPA Buyers Group (CBG). Heroman Services Plant Company now has greater buying power with special wholesale pricing through the most experienced Commercial Grade Christmas Light and Decor vendors from across the USA and Canada. Heroman Services can now bring the spirit of the Holiday Season to their new and existing clients confidently and at an even greater reasonable rate.
Heroman Services Plant Company is the leading Interior Landscaping firm along the Gulf Coast and is ranked as a Top 25 Company Worldwide. They focus their expertise on Design, Installation and professional Horticulture Maintenance Services for hundreds of prestigious Clients across the South.
Services Include Interior Plant Designs, Installations & Maintenance, Living Green Walls, Moss Walls ,  Interior & Exterior, Exterior Container Gardens, Courtyards, Urban Park-lets, Seasonal Rotation – Blooming & Flowering Plants – Interior & Exterior, Holiday Decoration & Lighting , Christmas, Holiday Poinsettias, Special Event Plant Rentals.
The Heroman family has been involved in Horticulture since 1838. Going on two hundred years, and now six generations, they have devoted their working lives to the Green Industry, Biophilia, and the innate need of humans to seek connections with nature, training and educating new generations of Horticulturists along the way.
Heroman Services Plant Company is pleased to provide our professional Interior Landscaping, Exterior Container Gardens, Green Roofs, Green Wall and Holiday Lighting/Decor Services to these areas:
Pensacola: 850.936.6969 , Destin: 850.424.3900, Panama City: 850.785.8787 
 Tallahassee: 850.785.8787,  Mobile: 251.607.6787,  Anniston/Gadsden: 256.546.3500,
Biloxi/Gulfport: 228.432.9909
"Your plant HERO for over 180 years"